---
---
Learn Building Your Own Sustainable Houses
Stay at a Permaculture Farm in Nainital
Sept 23 - 30, 2017
---

Make Connections

Get Inspired

Relax & Have Fun

Have conversations

Brainstorm ideas
Whether you are someone intrigued by the recent revival of building with mud or astounded by centuries old houses and structures still standing tall and strong or perhaps you are a nature lover, an environmentalist, naturalist, a permaculturist, an architect looking for better alternative building techniques or you just love crafting with your own hands or maybe you don't know what you want but you know that you need to feel some magic and rejuvenate your soul ... you will love this workshop.
In this workshop, we will together hand-sculpt a stunning mud bench worthy of boasting and posing around in & give final touch to a cob oven. We will learn and discover what makes mud the best building material, its beauty, its energy efficiency, its durability. At the end of this workshop, you will take back skills to use immediately even in urban environments and to make healthy lifestyle changes.
---
Go Back to the Roots Experience beauty of natural houses made using Bamboo, Earthbag, Cob, & Stone that are natural, efficient and sustainable. Learn the basics of how these sustainable houses are made. We will hand-sculpt a mud bench to actually learn the process involved in making these natural houses.
---
Experience Rawness You will be living in a farm cum learning centre located in a beautiful village with unique natural structures that use the sun, wind, water and science to function better. Imagine seeing a place that grows their food organically, milk their own cows, & prepare their own jams, jellies, sauces, pickles, pizzas and more.
---
Simple Living Eat home cooked Indian vegetarian food prepared local style on Rocket Stove. You will also get international cuisines, healthy slow food & Millets. You can also purchase organic raw mountain Honey, pure desi cow Bilona Ghee, Pickles, etc (depending on availability).
---
Be with the community Learn how a community centre is helping the village create an abundant life and facilitating establishment of quality Healthcare, Education, Infrastructure, and Financial upliftment - a social enterprise engaging and up-skilling women and jail inmates while making available to all artisanal products crafted with ethics and passion, guaranteed for purity.
---
Give back to Mother Earth Learn about the benefits of natural building & organic farming. Let's try to attain a better ecological balance by learning skills that we all can implement.
---
What's More? - Local village, forest and waterfall treks with picnic
- Movie nights on projector

---
And More? You have option to enjoy following things voluntarily:
Hiking and trekking.
Bird watching. Pangot is an international bird sanctuary.
Nainital boat rides and shopping.

Our Facilitator She is a former champion of the rat race, current Farmstress, Adventuress and Warrioress trying to recreate the homesteading life from 100+ years ago. She is a fan of humaneness and kindness and manners. She is running her own permaculture farm which she calls as a secret place to reconnect with nature and believe in magic! Her farm is an aspiring homestead moving towards self sustainability through natural building, organic farming, raising livestock, food preservation and she flavoured it all with fun and adventure.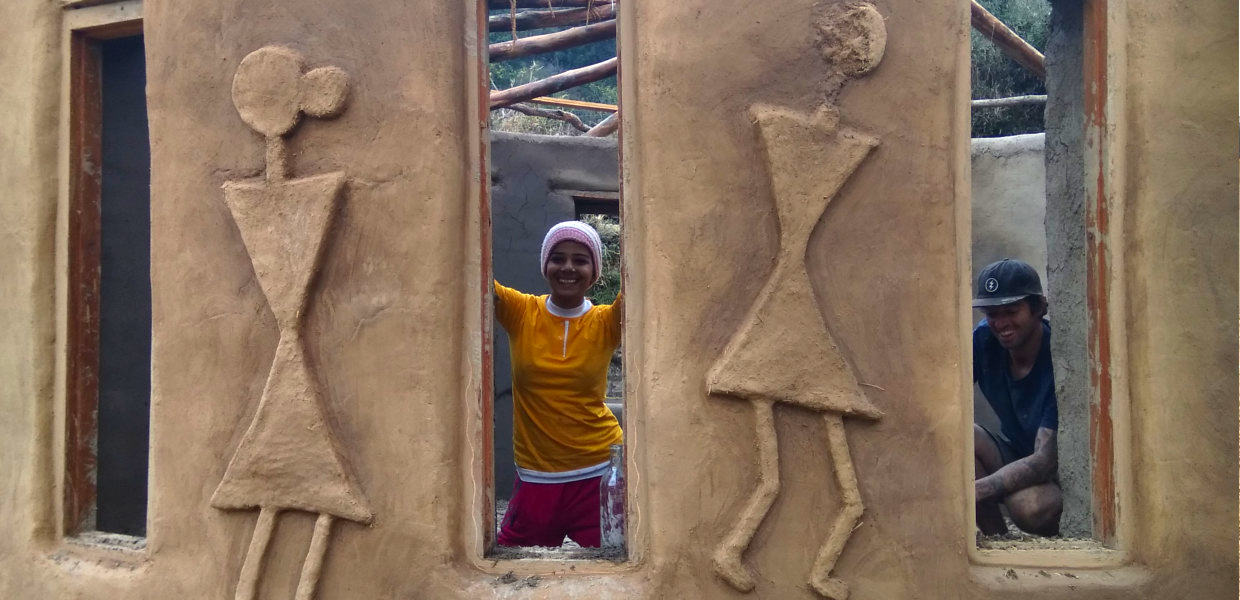 Pricing
One experience can change many things in your life. Be a part of this phenomenal experience.
Early bird offer (till 30th Aug)
Rs. 18,000
per person
Normal pricing (After 30th Aug)
Rs. 22000
per person
For previous enTRIPreneurs
Rs. 16200
per person
---
Comfortable large loft with dorm style sleeping with shared flush toilets, compost dry toilets, indoor shower with hot water and outdoor natural spring waterfall showers. Mattresses, Pillows, Sheets and Blankets will be provided.
You can also bring your own tent.
We will be traveling from one of these trains (Chair Car) from Delhi to Kathgodam:
Shatabdi : Departure at 6am and arrival at 11.40am same day.
Sampark Kranti : Departure at 4pm and arrival at 10.40pm same day.
From Kathgodam Station, we will take a cab (2-2.5 hrs) that will take us straight to the farm. We will then have to walk around 500 mtrs uphill for reaching the farm.
Shared accommodation
Transportation to & fro Delhi by train
Morning tea, breakfast, lunch, evening tea and dinner
Local village, forest and waterfall treks with picnic
Movie nights on projector
One pizza party with bonfire
Unforgettable experience with like-minded people
Travel costs from your location to Delhi & back
Voluntary activities such as visiting Pangot -international bird sanctuary, Nainital, etc.
Enroute meals in bus (on road - if any)
Personal expenses such as Mineral Water, All Drinks, Laundry Charges, camera fee, etc.
Expenses incurred by reasons beyond our control such as road blocks, accidents, natural disaster
Any kind of insurance, medical or/and emergency Charges
Anything else not included in the itinerary
Alcohol. Bring your own booze.
Application ends on 5th Sept 2017. Anyone joining after this date needs to manage transport by their own.
Early bird offer - Rs 18,000 per person + GST(18%) (till 30th Aug)
After 30th August - Rs. 22,000 per person + GST(18%)
All selected candidates need to pay within 2 days of receiving the selection mail. In case of non-payment, the opportunity will be passed to next wait listed candidate.
The money you deposit with us is non-refundable. If at any time in the future you choose to not go on this trip, your money will not be refunded. So please think thoroughly before depositing.
Can't join us for 7 Days?
No worries! You can join us for as little as 3 days. Contact us to know more.